Best Laser Hair Removal Treatment Clinic in Powai, Mumbai
Dr. Pallavi Sule is one of the leading dermatologists and cosmetologists offering advanced skin and hair treatment to thousands of patients. You can schedule an appointment today for the best laser hair removal treatment in Mumbai. Contact us for more details.
Are you tired of waxing, threading, shaving, and using razors for hair removal? Well, you are not alone. However, it is important to note that laser hair removal treatment is one of the best methods for long-lasting, if not permanent results to get rid of hair from the body.
If you live in Mumbai, you can get professional help from Dr. Pallavi Sule, the leading dermatologist, and cosmetologist providing advanced and best laser hair removal in Mumbai.
Women for a long time have used different methods to remove unwanted hair from their body parts. Recently, it has been found that more and more men are keenly interested in taking a wide range of cosmetic measures to remove hair.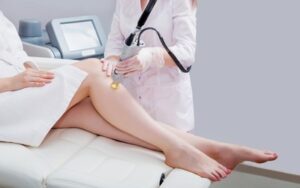 Hair removal through laser has made huge leaps as far as technology is concerned, which now helps in performing the procedure for everyone in an easier way. Moreover, the best laser hair removal clinics in Mumbai can help you.
However, like any other medical procedure, there are several factors associated with laser hair removal, and you must know them well. Find out more about laser hair removal treatment for men and women.
Dermatology Treatment Services
Dr. Pallavi Sule is the best dermatologist in Powai, Mumbai providing advanced laser hair removal treatment, skin treatment, dermatosurgery, cosmetic skin solutions and much more. For appointment, fees and other details, contact us today!
Why Choose Our Laser Hair Removal Treatment Clinic in Mumbai?
At Dr. Pallavi Sule's renowned clinic for laser hair removal in powai, Mumbai, we pride ourselves on offering top-tier services tailored to your unique needs. Our skilled laser hair removal surgeons in Mumbai utilize advanced techniques and state-of-the-art equipment to ensure a comfortable experience and outstanding results.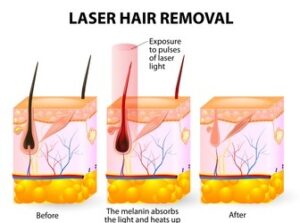 Laser hair removal can be defined as a cosmetic medical procedure that utilizes a powerful beam of light, also known as intense pulsed light – IPL, to remove undesirable hair from different parts of the body. In the laser hair removal treatment, light is used to achieve the objective of removing hair.
The light energy emitted by the laser goes down the hair shaft and is absorbed by the pigment called melanin in the hair. Thereafter, the light energy is converted into heat, which targets the root and damages hair follicle. The whole process is known as photothermolysis.
Common body areas where laser hair removal is used include the face, hands, legs, armpit, and chest. At this point, it is important to note that hair has three cycles of growth namely; resting, shedding, and growing.
Therefore, a course of laser hair removal treatment is necessary to remove hair at different growth cycles. Also, the discussed procedure may prevent hair growth for a long period of time, but may not result in permanent hair removal.
People with dark hair and light skin colour or appearance generally can take hair removal treatment without issues as laser technique can easily target the hair due to differences in pigment. However, people with dark skin and light hair may need more sessions for complete hair removal.
The latest technology and advanced tools are fast changing the way the procedure is done, which can help people with all skin types. Always consult experienced and trusted experts for the best laser hair removal treatment in Mumbai.
State-of-the-Art Clinics for Laser Hair Removal in Mumbai
Choose from our conveniently located laser hair removal clinics in Powai, Mumbai, where we prioritize your comfort and safety while delivering exceptional results.
Our clinics are equipped with the latest technology and staffed by skilled professionals dedicated to making your laser hair removal journey seamless and satisfying.
Our Services:
Comprehensive Consultation: Our experts assess your skin and hair type to devise a personalized treatment plan.
Tailored Approach: We customize each session according to your hair color, skin tone, and targeted area.
Safe and Effective: Our treatments are carried out by experienced laser hair removal surgeons in Mumbai, ensuring safety and efficacy.
Minimal Downtime: Resume your routine immediately after sessions with minimal to no downtime.
Lasting Results: Experience a significant reduction in hair growth as you progress through the treatment cycle.
Do's and Don'ts of Laser Hair Removal Treatment
Do's
Do shave and trim the area from which hair needs to be removed, ideally the day before the treatment.
Do use creams with high SPF factor as recommended by the doctor.
Do exfoliate the skin gently as it can help the hair removal treatment.
Don'ts
Don't expose yourselves to the sunlight before and after the treatment as per the direction of the doctor.
Don't use any creams that can cause darkening of the skin.
Don't use any other hair removal methods before the laser treatment.
Don't use certain medications which your doctor will advise.
Don't undergo hair removal treatment procedures if you are pregnant or breastfeeding.
Don't follow the procedure, in case you have sunburn, tan or other conditions such as acne, dermatitis etc.
Note: Always seek the advice of your doctor for the final word on do's and don'ts.
Benefits of Laser Hair Removal
Precision: Target specific areas without affecting surrounding skin.
Long-lasting Results: Enjoy smooth skin for an extended period after a few sessions.
Speed: Swift treatment; each laser pulse targets numerous hair follicles simultaneously.
Minimal Discomfort: Modern lasers come with cooling mechanisms to enhance comfort.
Versatility: Suitable for various body areas, including face, legs, bikini line, and more.
No Ingrown Hairs: Unlike shaving or waxing, laser removal reduces the risk of ingrown hairs.